The single-platform solution that puts productivity at the center of your global supply chain.
PRODUCT DESCRIPTION
ABOUT CARGOWISE
CargoWise is a deeply-integrated global software solution that enables our customers to execute highly complex logistics transactions and manage their operations on one database across multiple users, functions, countries, languages, and currencies.
This powerhouse solution allows customers to better address the complexities of the logistics industry while dramatically increasing productivity, reducing costs, and mitigating risks via a global integrated software platform.
CargoWise is a single-platform software solution built upon a single guiding principle: increasing your productivity. It's a single-database, enterprise-class management system for logistics businesses across 160 countries. There are more than 17,000 logistics organizations using CargoWise solutions.
This powerful platform is scalable to serve logistics companies of any size – from the smallest boutique freight forwarders to the largest organizations in the world. It is also functional in 30 languages.
Please visit cargowise.com to learn more.
MAIN FEATURES
CARGOWISE MAIN FEATURES
Scalable to any size of business
Global reach: approximately 160 countries
Deeply integrated with real-time visibility
Reduces risks, costs and data entry
Detailed compliance
Able to function in 30 languages
Data entered only once
Automations and delegations
Built-in productivity tools
On-demand / transaction-based licensing
Global data sets and execution engines
Swift on-boarding, efficient sales process
Open-access, cloud enabled
Available anywhere, anytime
MODULES
CARGOWISE MODULES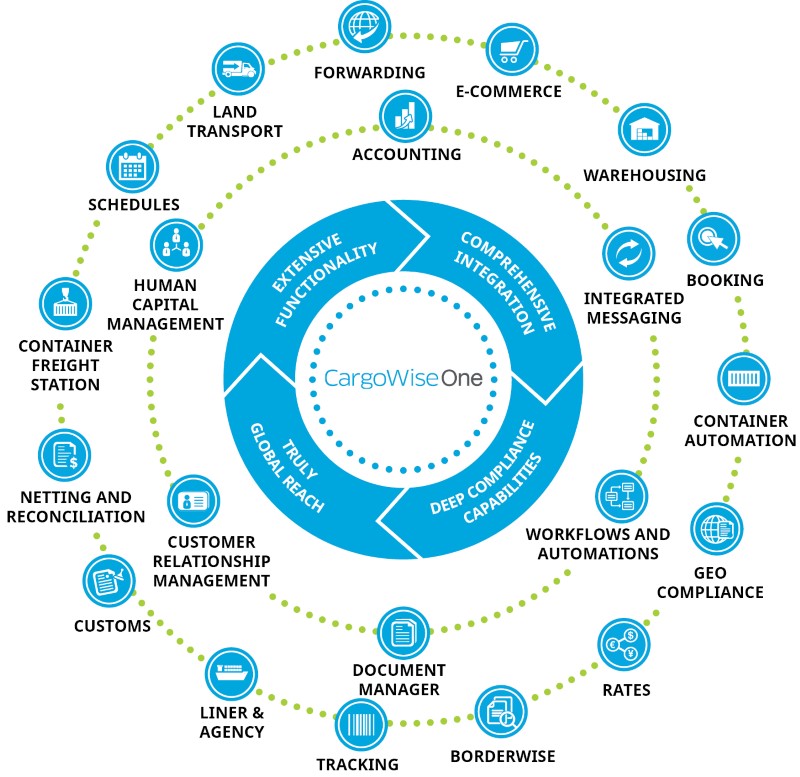 Forwarding, including International Electronic Ports Connections
Customs
Liner and Agency
Container Freight
Warehousing
Land Transport, including GPS and Tracking, Optimization and Scheduling, LDaaS, and Mobility
Geo Compliance
Enterprise Capabilities, including Accounting, Integration, CRM, HRM, Workflow, Documents, Tariffs and Rates, Bookings, and Schedules
VIDEO
LEARN MORE ABOUT CARGOWISE

We Have Direct Electronic Connections To The Following Agencies:
that we have made to the system and its different modules